President
Tim Anderson 
Regional Animal Services of King County 
I have been with Regional Animal Services of King County (RASKC) since 2011, and have worked as a front line supervisor, Acting Manager and in my current role as the Lead Animal Control Sergeant where I have the opportunity to lead our amazing team of animal control officers and animal care staff. I began my animal control career as an ACO for Kitsap Humane Society before moving on to Pierce County Animal Control in 2006 until 2011. I'm excited to be back on the WACA board working with a great group of fellow board members. I look forward to supporting the animal care and control professionals throughout Washington!
Treasurer
Edwin Cruz Diaz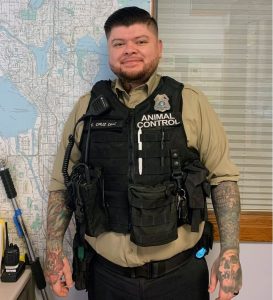 I began my career in the animal field in 2012 working as a veterinary assistant for Animal Critical Care and Emergency Services (ACCES), now known as BluePearl Seattle. In 2015, I went on to be an Animal Care Technician at Regional Animal Services of King County (RASKC) and since June 2017 I have been an Animal Control Officer for the City of Seattle. Being an animal control officer is both rewarding and challenging. Throughout my career I have experienced a number of great outcomes, but with that also came heartaches. Being there for the animals that require our help and owners who need guidance and education makes it all worth it.
My wife and I share our home with our 4 dogs, 3 cats, a few bearded dragons, one axolotl, and a tortoise.
I am excited to be a part of the WACA board and help in any way I can.
Vice President
This position currently open 
Secretary
Kristi Boucher 
City of Bothell Animal Control
I started my career as an Animal Control Officer for the City of Bothell in May 2017 and graduated from the ACO Academy at CJTC in March 2018. I have been working with animals since 1999 in various management positions at Petco, Pet Pros, Himalayan Corporation and Northpointe Animal Hospital. I am passionate about animals and enjoy being their voice. I love educating people; most people who know me would say I am a social butterfly. I consider myself a cat person. I currently own 4 cats, 2 dogs, a fish tank and a pond. Only 3 of my fur babies are "foster fails" ….. (or what I like to call "foster wins")!
Additional Members
Leslie Wall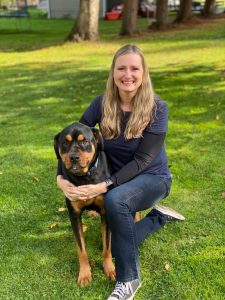 I have worked in the animal field since 2003 working at Pilchuck Veterinary Hospital.  In 2017 I became an Animal Control Officer for the City of Everett.  I currently am the Assistant Manager at the Everett Animal Shelter.  I am honored to work with so many ACOs in our community.  My favorite part of the job is the diversity of this profession.  Animal welfare workers wear many hats from educators, counselors and enforcement.  We are the experts for the community and are the voices for so many animals.  I am excited for the opportunity to serve on the WACA board.
How to Become a Board Member
gEach fall we are looking to expand our board and gain new team members.  The board has about 6 meetings per year, some of which can be by conference call.  There are two events that the WACA Board works hard on each year, the Spring Animal Control Officer Academy at CJTC, as well as the Pacific Northwest Animal Care & Control Conference in the Fall.  These are activities that you as a member, are needed to participate in and help plan.  It takes a team to pull these kinds of events off.  As a reward, each Fall, there is an annual working retreat in some fun location.  Different positions are available from Conference Coordinator, Academy Director, Membership Committee Chair, Treasurer, Secretary, Social Media, Newsletter and much more.  The board is a great way to network, add something to your resume, have fun and help a great group achieve big accomplishments as a team effort.
If you are interested in being a board member and would like to represent your Agency as well, please complete and submit the following documents to info@washingtonanimalcontrolassociation.org
Please contact info@washingtonanimalcontrolassociation.org for additional information on WACA Board Nominations.